Equine Center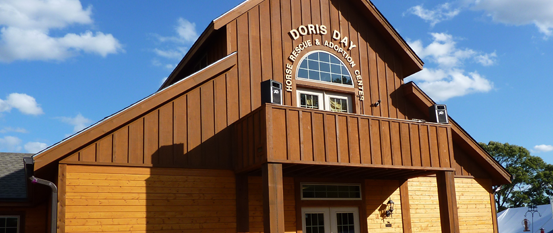 Read about our most recent successes in the 2017 Equine Center Update!
The Doris Day Equine Center opened at Cleveland Amory Black Beauty Ranch in Murchison, Texas, in May 2011 with a parade of healthy, well-fed horses and their dedicated trainers. The successful recovery of each animal is due to the care and compassion of the Center's staff, made possible in part by an initial grant of $250,000 from Doris Day Animal Foundation.
"I'm thrilled with the Center's early success and our ability to help horses in neglected and abusive situations," Ms. Day commented recently. "This fulfills a dream that my friend [writer and animal-rights activist] Cleveland Amory and I discussed many times in talking about how we could help horses."
The story began in 2009 when the Humane Society of the United States rescued nearly 200 emaciated and neglected horses from the 3-Strikes Mustang ranch near Alliance, Nebr. About half of these horses, victims of a failed rescue operation, were relocated to facilities scattered across the U.S. With the help of Ms. Day's grant, nearly 100 mustangs found a new home at the Black Beauty Ranch.
The ranch, Amory's legacy, is a facility where animals — either abandoned, neglected, past their prime or simply displaced — are rescued to live out their days under watchful care or groomed for adoption. Doris Day Equine Center comprises 12 acres of the ranch and includes an education center, stables, a staging facility to care for animals caught in natural disasters, and a "horse playground" — open space where the horses live as the herd animals they naturally are.
With many of the original mustang rescues adopted into new homes, the Center today places its focus on "training the trainers." Working with the Forever Foundation program and Trevor and Tara Carter of Carter Ranch Horse, rescuers are given a clear plan to follow. The Forever Foundation offers a ready-made, adaptable training template for equine rescue organizations across the United States, using the Plan 4 Progress® to further the development of the horses available for adoption. Rescues find the program allows them to be more consistent and efficient, because everyone at the organization gets the same information about how to approach and handle horses. To learn more, visit http://hsusforeverfoundation.org/about-us/
Doris Day Animal Foundation continues to support the Equine Center's important program, along with many others across the country that improve the lives of horses, dogs, cats and other animals who so desperately need our help. Please join us in our work by making a donation today.