December 23, 2014
2014 Grantee Spotlight
We want to share with our supporters a round-up of some of the great successes our grantees have reported as the year comes to a close. Read on and join us in congratulating these grantees on their life-saving work!
Anna, a sea lion pup from the Pacific Marine Mammal Center: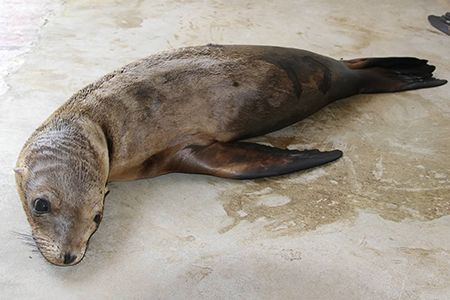 Anna was rescued in mid-March from an area underneath the Newport Pier. She had been up on the beach for a while, with no real interest in returning to the ocean. She was visibly underweight - a confirmed weight of just 22 pounds once back at the Center. A rescue team arrived on scene, assessed the pup's situation, and made the decision that she was in need of supportive care. Back at PMMC, Anna was weighed, examined and given the medical attention she needed. The next step was getting fluids and nutrition in this very dehydrated and malnourished sea lion pup. And with that her rehabilitation journey began.
After her initial start on nutritious tube-feedings, fluids and a safe warm place to rest; Anna did well. She began eating small amounts of fish after about six days and was slowly transitioned from tube-feedings to whole fish at every meal. Once stable and steadily gaining weight, we worked to introduce her to group feedings - first just with one or two other sea lions, then a small group as she adjusted and did well. Being so young and malnourished when she came into our care, Anna's recovery was a bit longer than an average rehabilitation. Although these young sea lion pups often come into our care for similar reasons, each animal's case is unique to their own needs. So Anna's rehabilitation plan was formulated and adjusted specifically to what she needed to get healthy and grow strong.
After several months of care and her recovery complete, Anna was ready to return to her ocean home. She was released with two other sea lions that day and was 1 of 5 satellite tagged this year. Satellite tracking data received tells us that since her release Anna spent a few days in local waters near her release site, then moved south to La Jolla Coves - a location where several of our other former patients have been sighted!
Maguire, a senior sheltie from Almost Home Dog Rescue of Ohio: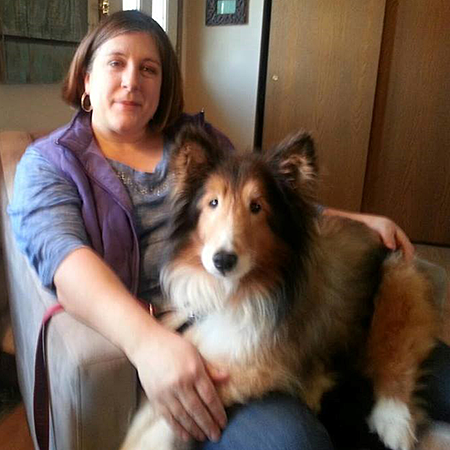 Maguire is an adorable senior sheltie boy who has a go-with-the-flow attitude that certainly has helped him through some challenging times. He was found wandering the streets and eventually ended up at a West Virginia shelter. The volunteers at the shelter were determined to save his life, so a plea was sent out to find someone to help him. Almost Home Dog Rescue of Ohio stepped up to rescue him and provided him with the medical care he needed to recover. He was extremely underweight (19 lbs.) and needed to be shaved due to a heavy flea infestation. His severe arthritis in his front legs made walking difficult. During his examination, his blood work revealed he had a thyroid condition and would need to be on a special prescription diet.
He received dentals, was prescribed medication to manage his thyroid and arthritis, now is on a healthy diet and his coat is growing in beautifully. Maguire is now up to 27 pounds!
His forever foster mom reports that she absolutely adores this sweet, quiet little gentleman. He gets along great with all the other dogs in the home and seems to enjoy the calm, peaceful home environment. He is eating very well and is taking lots of naps ...getting stronger every day! He can move around much better and has even conquered the three patio steps (he twirls around a few time to gain the momentum to hop up the steps). He rarely barks, but when he does he seems to startle himself with the sound! He loves to be petted while wagging his tail furiously. Maguire is part of her life now, a very special part. And Maguire, he just soaks in being adored.
Dewey, a senior German Shepherd from Peppertree Rescue: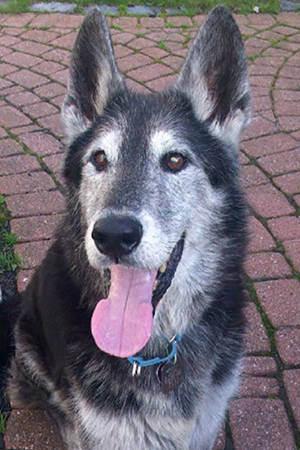 Sometimes it takes a Village to rescue a dog. As you read Dewey's story think of the various people and organizations that pitched in to save his life and find him a home.
It started with a compassionate Animal Control Officer, Cindy, who collected an old, worn out German Shepherd off the city streets. She thought he was a special guy, but he was in rough shape, and his prospects would not be good if he ended up in the Municipal Shelter. So Cindy called Peppertree, thinking that we might help. And she was right. The dog passed his temperament evaluation with flying colors and we welcomed him into our program. Peppertree named him Dewey.
Peppertree volunteers Susan and Parker P. took Dewey into their home as a foster dog. He settled in beautifully, spending most of his time resting and regaining his strength after his time on the streets. He enjoyed the company of Parker and Sue and their two resident dogs. Soon it was time to head to the vet. Dr. Tanya H. gave Dewey a complete physical and as feared he was a complete mess: parasites, arthritis, high white blood count, low thyroid level and several teeth that needed to be extracted. The good news was that all of it was treatable, and with the help of a grant from The Doris Day Animal Foundation Peppertree was able to pay the sizable vet bills.
Dewey spent about a month in foster with Sue and Parker. His health improved each day. Peppertree volunteers came and took his picture. Some other Peppertree volunteers wrote his description and posted it and his picture on our website. Other Peppertree volunteers transported him to adoption clinics. And all the Peppertree volunteers fell in love with the kindly old gentleman.
Potential adopter Marilyn K. saw Dewey's picture on the Peppertree website and immediately fell in love too. She was a widow who had lived alone since her previous German Shepherd had passed away and was looking for a new friend. Sue took Dewey to meet Marilyn and was surprised to encounter a whole gathering of folks. It was Marilyn's support group: friends, neighbors, family and even Marilyn's own dog walker. They had all come to meet Dewey too!
Needless to say, Marilyn adopted Dewey. Marilyn said, "From the minute that Dewey came into my home he acted like he had always lived there. I knew immediately he was meant to be with me and I am so happy to give him a nice 'retirement' home."
Sometimes it takes a Village.
Leo, a Missouri Fox Trotter stallion from the Doris Day Equine Center: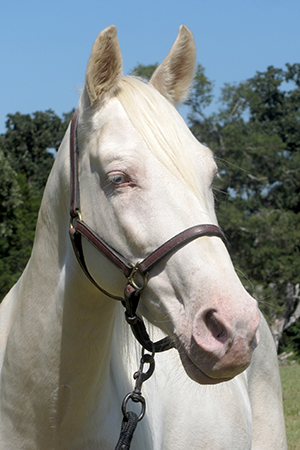 In February 2014 the Humane Society of the United States assisted the Jefferson County sheriff's department in the rescue of 180 animals from a puppy mill in Arkansas. There were 20 horses in the group, which included a small band of yearlings, mares and geldings, five pregnant mares and two stallions. One of the stallions, and likely the father to several of the foals born later that year, was a 6-year-old cremello Missouri Fox Trotter we later named Leo.
Leo was fearfully aggressive and so over-reactive that his rescuers feared for his safety as well as for the safety of those around him. He spent several months with a trainer in West Virginia where he learned how to overcome his fears and behave like a gentleman. He arrived at the Doris Day Equine Center in August a changed horse. Now a gelding, Leo was calm, quiet and confident. His pearly white coat and piercing blue eyes captured the attention of everyone he met but his sweet demeanor captured their hearts.
Leo was recently adopted by a couple in Elgin, Tex., who fell in love with him at first sight. They are keeping him in training with a professional natural horsemanship trainer to continue Leo's education as well as theirs. Leo has found a wonderful home and his future is bright and full of promise. As for his offspring, they are currently at the Doris Day Equine Center preparing and waiting for their own forever homes.
Bud, a fantastic 13-year-old young man from Sam's Hope: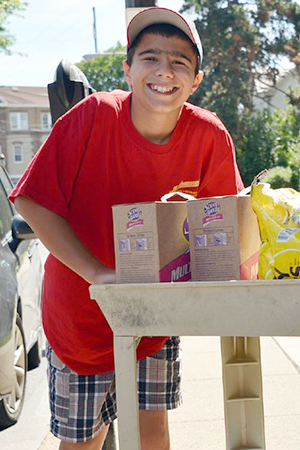 In October Sam's Hope was truly blessed by a young man who chose Sam's Hope as his Mitzvah Project. Bud worked hands-on delivering pet food to the food pantries, helping to break-down and bag pet food into more manageable sizes for distribution, and delivering pet food to our elderly clients. He also held pet food drives at his synagogue, and asked that donations be made to Sam's Hope in honor of his Bar Mitzvah.
An amazing $3,273 was donated to Sam's Hope in honor of Bud, with which Sam's Hope will establish "Bud's Fund." Bud's Fund will provide veterinary care assistance to pets with special needs.
Sam's Hope was absolutely thrilled to have Bud's help and looks forward to working with him on their next project, Meals for the Pets of the Homebound Elderly.
« Go Back