Duffy Day Lifesaving Program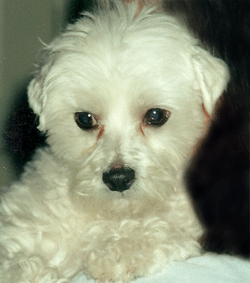 Named after Doris Day's rescued Maltese, the Duffy Day Lifesaving program provides funds for extraordinary costs associated with giving a second chance to senior and special-needs animals that would otherwise be euthanized. Duffy had been left in winter, tied to an exterior door knob at the Nebraska Humane Society in Omaha, Nebr. He was malnourished, badly matted, and suffered from being confined for much of his life. His behavior was also affected by neglect: He was extremely shy, he could not walk a straight line, and he scratched at the ground relentlessly, a behavior learned while trying to cover his own waste in confinement.
At the time of his rescue, Duffy was not adoptable. Had it not been for veterinary intervention, and months of slow, steady resocialization with people and other animals, Duffy would very likely have been euthanized. It was only donated veterinary care and a loving foster family that saw Duffy eventually go to Doris Day's welcoming home. When she took him in, Doris knew that Duffy, like all her 4-leggers, was a gift of joy and love. The little dog flourished in his new home, with his own soft bed and other calm animal companions. Doris so appreciated the time and care Duffy had received, she decided to endow a special program for extreme cases of neglected animals who could be saved by intensive, emergency aid.
The Duffy Day Lifesaving Program provides grants specifically to save the lives of animals in emergency situations or to provide critical veterinary care for senior pets who would otherwise likely be euthanized. To date, these special grants have been awarded to the SPCA of Monterey County and the Nebraska Humane Society.
Doris Day Animal Foundation's mission is to improve the lives of animals like Duffy and the countless dogs, cats, horses, and other animals across the country who so desperately need our help. Please join us in our work by making a donation today.