April 14 2013
California Sea Lion Crisis Prompts Support for Pacific Marine Mammal Center
UPDATE: June 18, 2013:
DDAF was priviledged to visit the Pacific Marine Mammal Center recently, to witness all the good work under way to rescue and rehabilitate hundreds of sea lions who are the victims of this year's crisis. More than 330 sea lion pups and yearlings have been rescued by PMMC this year, shattering all previous records for rescues in a six-month period. The peak rescue activity occured March 31 through April 4, with 36 sea lions rescued in a single week. At one point, the facility housed 139 animals, an all-time capacity record for patients in-house. Luckily, by mid-May, the number of rescues per week dropped to 25, then continued to drop significantly into June. In all, 76 sea lion pups have been rehabilitated and released, but the PMMC still houses 103 animals, awaiting their release date.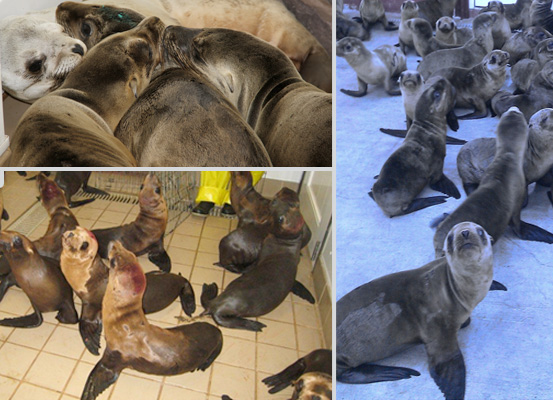 Los Angeles - The Doris Day Animal Foundation has made an extraordinary $20,000 grant to Orange County's Pacific Marine Mammal Center (PMMC) in the wake of what wildlife officials call an "unusual mortality event" among California sea lions. Since January, nearly 1,000 sea lion pups have been stranded, malnourished and injured, on beaches from Santa Barbara to San Diego. The cause remains unclear, but the crisis has sent more than 300 marine mammal patients to the PMMC, all in need of urgent care.
"The grant will go a long way in helping us to care for these animals in our care," said Melissa Sciacca, Director of Development for Pacific Marine Mammal Center. "With so many animals in need, we are grateful to have the support of the Doris Day Animal Foundation to help us cover the costs of fish, medication, supplies and more during our crisis."
"California is such a special place," said Doris Day, founder of the Doris Day Animal Foundation. "Our sea lions are so precious, and when I heard so many were at risk, I knew we had to take action." Ms. Day doubled the initial $10,000 grant to PMMC after learning about the exponential rate of sea lion deaths and strandings this year.
Established in 1971, Pacific Marine Mammal Center is among the forerunners in marine mammal rehabilitation science. The only organization of its kind in Orange County, PMMC responds to approximately 300 marine mammal rescue calls each year. PMMC is a non-profit organization with a mission to rescue, medically treat, and rehabilitate pinnipeds and cetaceans that strand along the Orange County coastline due to injury or illness; to release healthy marine mammals back to their natural habitat while preserving species diversity; and to increase public awareness of the marine environment through education and research.
"Without support from generous donors like the Doris Day Animal Foundation, giving all these sea lion pups a second chance at life would not be possible," Sciacca said.
For more information about the PMMC, including memberships, educational programs, volunteer opportunities, or donation, call 949-494-3050 or visit www.pacificmmc.org.
For more information about the Doris Day Animal Foundation, visit www.DDAF.org