November 5 2012
Celebrities Celebrate Doris Day Animal Foundation's 35th Anniversary
Grace Sydney Dogtipper.com | Link to Article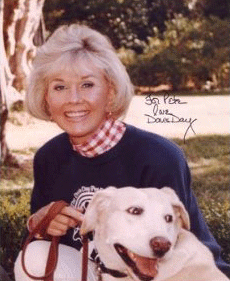 From animal-loving legends like Betty White and Tippi Hedren to compassionate contemporary stars such as Rachel Miner, Michael Vartan, Dancing with the Stars judge Carrie Ann Inaba and It's Me or the Dog's Victoria Stilwell, celebrities have happily stepped in front of the camera to proclaim their not so "Secret Love" for a doggedly devoted entertainment icon who is celebrating her foundation's 35th anniversary.
Launched in 1978 as the Doris Day Pet Foundation, among its many good deeds the Doris Day Animal Foundation gives grants to non-profits to further their continued care of pets in need; funds the medical care of injured and senior animals who are no longer facing their final days at kill shelters thanks to the Duffy Day Life Saving Program; and creates a brighter future through the Doris Day/Terry Melcher Scholarship at UC Davis School of Veterinary Medicine.
Doris Day's fans have a golden opportunity to hear the actress from Hollywood's Golden Era in a recorded message as she welcomes visitors to the Doris Day Animal Foundation's recently revamped website, which will include periodic musings from the movie star in the new "Founder's Corner" section.