Monterey SPCA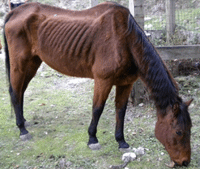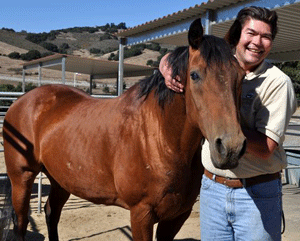 After receiving an anonymous tip on December 1, 2009, SPCA Monterey humane officers found three horses that were in a profound state of neglect in a pasture off River Road near Salinas. As required by law, they posted the property in an effort to contact an owner. When no owner came forward and the notices were untouched, the horses, all believed to be in their mid 20s, were seized and brought to the SPCA for emergency veterinary care.
Mocha, a bay gelding who was the most emaciated of the three, scored a 1 on the Henneke Scoring System, which is a scientific method of evaluating a horse's body condition. Horses can score from 1-9 with 5 being an approximate ideal. According to the attending veterinarian, Dr. Moses, at a score of 1, Mocha was within a couple of weeks of dying. Mocha also had a heart murmur and was anemic due to a severe tick infestation when he arrived. Bailey, a palomino, scored a 1-1/2 on the Henneke Scoring System and also had a heart murmur. Folger, a bay gelding, was not as emaciated as the others but had the most extreme tick infestation, which caused anemia and swelling over most of his body. He also had a tumor on his right front leg that needed to be removed.
All three horses were cared for and carefully fed under the direction of Drs. Moses and Baker of Monterey County Equine. Bringing horses back from near starvation must be done slowly and with great care to avoid harming them further.
Mocha was upgraded from a 1 to a 1.5 within just a couple of weeks following arrival at the SPCA, and he was given a good prognosis. However, as evidence in an ongoing animal cruelty case, Mocha would need up to a year of care, grooming and feeding before he could be adopted. DDAF stepped in with critical money to support Mocha during his year-long rehabilitation.
In late 2010, Mocha was adopted by a wonderful local family that owned several other rescued horses. He now lives happily on a large, wooded lot.