US War Dogs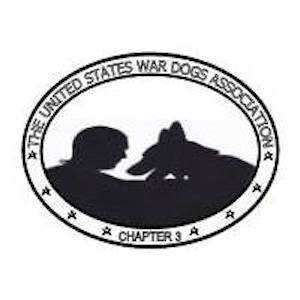 The United States War Dogs Association, Chapter 3 was established in 2000 as a non-profit organization made up of former and current U.S. Military Working Dog Handlers. Since the Association was formed, they have supported more than 3,000 dog teams, sending more than 16,000 care packages totaling more than 125,000 pounds. The Association has played a major role in the passing of the MWD Resolution H.R. 5314 in Congress and also the Adoption Program of Retiring Military Working Dogs.
Their primary goal is to bring the history of the U.S Military working dogs from all the wars to the public. And in doing so they also support the following:
Service dog organizations such as military working dogs, Police K-9 Units and Search and Rescue units.
Post deployment outreach for our Returning Troops.
Organizations and Programs that are supporting returning Troops with Therapy Dogs
Additionally the United States War Dogs Association, Chapter 3 helps in the process of adopting retiring Military and Police K-9s and help raise funds for War Dog Memorials.